10724 Wilshire Blvd | Park Wilshire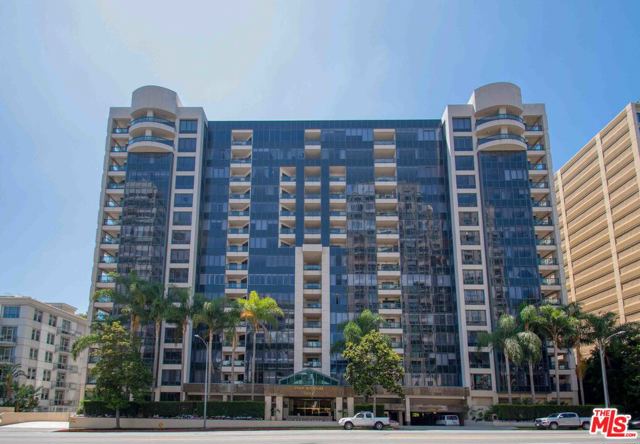 $9,500
Active
10724 Wilshire Boulevard 1209 Los Angeles, California
3 Beds 4 Baths 2,826 SqFt
$7,900
Active
10724 Wilshire Boulevard 1004 Los Angeles, California
2 Beds 3 Baths 2,018 SqFt
$4,995
Active
10724 WILSHIRE Boulevard 513 Los Angeles, California
2 Beds 3 Baths 1,563 SqFt
Park Wilshire
10724 Wilshire Blvd
The Park Wilshire is a 156-unit 16-story Highrise on the Wilshire Corridor in Westwood. Park Wilshire replaced the former site of the Ed Fickett designed Cavalier Motor Hotel, built-in 1950.
The Design of the Cavalier Hotel reminds me of another local Ed Fickett project in West Hollywood the Hollywood Riviera. The hotel was demolished in 1980 by CD Invest Co. to make way for the planned 160 unit apartment building the Park Wilshire.
Construction started in 1981, but the project got off to a rocky start because that year was the Wilshire corridor condo bust.  Like the Blair house, construction halted in 1983 leaving the building incomplete. The exterior concrete and the internal mechanicals were finished, but nothing else. The building was nicknamed "Dusty" because the concrete had a grey color that looked like the color of dust. Dusty went along with The Blair house's "Rusty".
CD Invest Co was purchased out of receivership by Stanley R Castleton of Sun Cal Properties/ Stanwill Cos, an Orange County distressed asset real estate investor in 1984. Stanwill Cos hired Barry A Berkus as the architect to redo the floorplans because the apartment layouts were not marketable as luxury condos. Berkus approached the redesign the same way he designed single-family houses; he figured that luxury condo buyers paying $500,000 to $2M would want the same amenities as a single-family home. I think this is why you see some unusual amenities in the Park Wilshire that you don't see in other buildings on the corridor. Castleton had bit off more than he could chew- the CD Invest Co portfolio was huge and contained a dozen buildings the Park Wilshire size or larger. He tried to sell the project with the plans. He supposedly had a buyer but that didn't go through. The property sat vacant for several more years, before in 1988 Castleton finally began construction. Park Wilshire was built at a cost of $110M. The Long overdue grand opening was in 1989.
The Park Wilshire has a mix of 1,2, and 3 Bedroom floorplans so there is quite a variety. The beautiful Italian granite port cochere welcomes guests. One interesting thing is the two Ancient 
Chinese Guardian Lions
 sculptures that guard Park Wilshire's main entrance. In Chinese culture, Foo Dogs were a sign of good luck. The original developer advertised the Park Wilshire like a Fine European hotel- they have a concierge. On the top two floors (15 & 16) with scintillating views are the 'Premier Collection' -12 junior penthouses and 4 penthouses.
Record Sale? #1607 $3,750,000 11/20/2008
Turnover? average about 6 condos a year or 4%
Appreciation?
All floorplans in the Park Wilshire are single story. Floors 2-8 have 1 bedroom floorplans and 12 condos per floor. Floors 8-14 have 10 condos per floor. Floors 15 and 16 are the premier collection and only have 8 condos per floor. Condos 4-7 face Wilshire, while 01, 02, 09 and 10 face the rear. The Rear stacks have unobstructed views of Westwood and the Los Angeles Basin, and Century City to the East.
Condo Mix
(26) 1 Bedrooms /
2 Baths

950 sqft – 1,050 sqft

 $600,000 to $700,000
2 Bedrooms/
3 Baths

1550 sqft -2450 sqft

$1,000,000 to $1,800,000
(40) 3 Bedroom/
4 Baths
Brass hardware
(4) Penthouses
4Br/
5BA #1507,#1607, #1502 (Penthouse 1501 has been combined with 1502) and #1602

3,800 sqft

$4,000,000 to $5,000,000
Condos have a raised panel wood front door, into a formal entry. Living rooms have gracious size and the kitchens have islands in the larger condos. All Electric no gas. Every condo has a small 60 sqft balcony except for the penthouses which have larger balconies.
The condos at the Park Wilshire offer one, two, and three bedroom layouts from nearly 1000 square feet to just over 3800 square feet.  These elaborate layouts provide excellent space with many units featuring wet bars, custom tile and marble flooring, granite countertops in the kitchens and bathrooms, wall-to-wall and floor to ceiling windows letting in the expansive light and stunning views.  While each unit is distinctly unique the curved architecture and oversized layouts are seen throughout the units.
most kitchens have pantries Master bedroom with walk in closet and private masterbathroom with double vanity and separate tub and shower
Italian granite with marble accents, west german cabinetry and European appliances
24 Hour Front Desk and Valet
Pool and Spa, plus Gazebo
Ballroom & Bar
Electric Car Charging Station
Elevator
Each condo gets two parking spaces except for the penthouses which get 3 parking spaces. Tandem side by side? Can you self park? Guest Parking? –
Side by side Laundry is inside each unit in a laundry room with extra shelving.
How much are the Park Wilshire Condos HOA Dues?
HOA Condo dues in the Park Wilshire range from $1,350/mo. – $2,800/mo.
What do the HOA dues at the Park Wilshire Cover?
HOA dues cover Water & Trash, Internet, Spectrum Cable (with HBO + Showtime), Gas and Electric, Earthquake Insurance
What does the Homeowner have to pay for?
Are there any special Assessments?
What is the Pet Policy at the Park Wilshire?
What is the Rental Policy at the Park Wilshire?
Have to own a condo 1 year before leasing 
Are there any Special Move in Instructions?
Can you have a BBQ on the Balcony?
Who is the Property Management Company?
Are you interested in the Angelino Heights area? Let's chat today, click the button below!