10430 Wilshire Blvd | Mirabella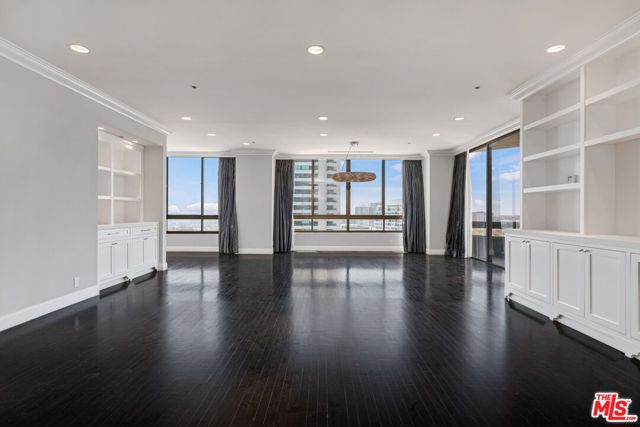 $7,798
Active
10430 Wilshire Boulevard 1601 Los Angeles, California
2 Beds 3 Baths 2,213 SqFt
$7,750
Active
10430 WILSHIRE 1205 Los Angeles, California
2 Beds 3 Baths 2,118 SqFt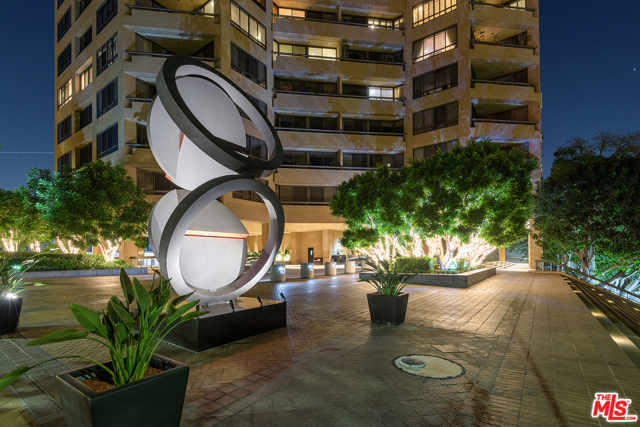 $6,850
Active
10430 WILSHIRE Boulevard 1701 Los Angeles, California
2 Beds 3 Baths 2,213 SqFt
The Mirabella Condominiums
10430 Wilshire Blvd
Los Angeles CA 90024
The Mirabella condos is a 22-story 114-unit Highrise on the Wilshire Corridor in Westwood. Built-in 1982, by Mike Reyes of Urban Pacific Equities and designed by Maxwell Starkman (Fun Fact: Maxwell Starkman also designed Sony Pictures Plaza in Culver City) and built by Swinerton & Walberg at an original cost of $90 million. The Mirabella is built at the highest point along the Wilshire corridor and is perched on the South West Corner of Wilshire Blvd and Holmby Ave for two exposures. Mike Reyes developed the Dorchester a few years afterward. Mirabella is one of two brick buildings on the corridor, the other being the Wilshire Thayer. The Mirabella has a sloping staircase that leads up to a plateau where a 20-Foot Benton Steel Sculpture resides. The shape of 10430 Wilshire Blvd is a six cornered trapezoid – making every unit a corner unit.  This may have been a precursor to the Century which has an oval shape. Aside from its light brown bricks, the windows are solar glazed. The Mirabella has 6 two-story penthouses
Record Sale? Penthouse #2 $2,825,000 1/31/2002
Turnover? 6 to 8 condos a year or 7%
Appreciation?
All of the floorplans in the Mirabella are single-story except for the Penthouses. Stacks 01 and 02 face Wilshire Blvd, stacks 03 and 04 face Holmby Ave, and stacks 05 and 06 faces the rear and overlooks the wading pool and spa. All of the floorplans are 2 bedrooms 3 baths and range in SQFT from 2,200 sqft to 2,800 sqft. Some condos have 1 balcony and some condos have two balconies. Every condo has one fireplace in the living room, but some have another fireplace in the master bedroom. 
Condos have large double door entries and are very spacious. When the Mirabella was being constructed was at the height of the early 1980's condo boom, so the builder built magnificent condos. I love the long triangular Balconies! 
Each condo has a master bedroom suite with a walk-in closet and a very large master bathroom with a separate tub and shower and double vanity.  
6 Penthouses that are 2 story units 6 units per floor
3,800 to 5,100 sqft
Circular Wading Pool (3ft to 6ft deep end) & Spa
Conference room
Extra storage
Each condo gets two deeded parking spaces in a subterranean garage. The owner can park their own car.  Tandem side by side? Can you self park? Guest Parking? – Penthouses? 
Laundry is inside each unit. There is a side by side machine with some cabinets above them. Conds have Gas, so you get a gas dryer. 
How much are the Mirabella Condos HOA Dues?
What do the HOA dues at the Mirabella Cover?
HOA dues cover Earthquake insurance, Water & Trash, Reserves, Common area maintenance, Building Insurance.
What does the Owner have to pay for?
Owners are responsible for Electric, Gas, Internet, Cable.
Are there any special Assessments?
What is the Pet Policy at the Mirabella?
What is the Rental Policy at the Mirabella?
Have to own the condo for 3 years before it can be rented. Only 10 units may be rented in total.
EQ Insurance?
Yes, included in HOA dues
CCRs?
Mirabella CCRs Download:
link:https://www.dropbox.com/s/3v38c5ellwah5tu/10430%20Wilshire%20CCR.pdf?dl=0
Are there any Special Move in Instructions?
Can you have a BBQ on the Balcony?
Who is the Property Management Company?
Are you interested in the Angelino Heights area? Let's chat today, click the button below!