8530 Holloway Dr | Holloway Terrace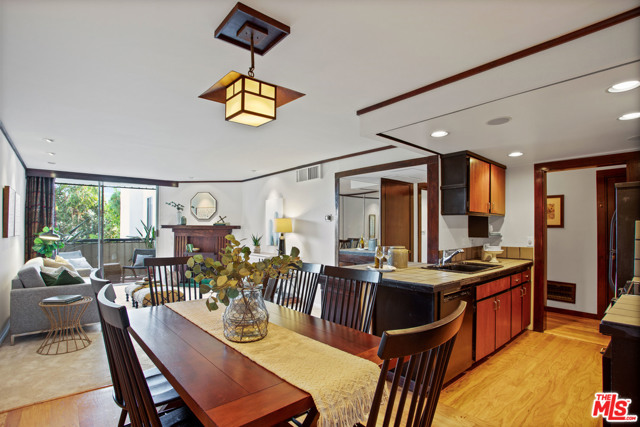 $550,000
Active Under Contract
8530 Holloway Drive 202 West Hollywood, California
1 Beds 1 Baths 768 SqFt
No properties found
Holloway Terrace
8530 Holloway Dr.
West Hollywood CA 90069
Who needs a car? From Holloway Terrace, you can walk everywhere! Holloway Terrace is an 84-condo midrise in West Hollywood. Built in 1973 as apartments, and later converted into condos by Josef S Noble & Associates in 1979, the building has a great walkable location.  The architecture is Garden Contemporary, with lots corner end-units that get great natural light from their large bay windows. The Building has a strong reserve, and the HOA has recently started a big renovation- redoing the Lobby, Hallways, Roofdeck, and painting the building exterior. Hearing about all of this work going on, you might be surprised to find there is no special assessment and the HOA dues are low- only $370/mo.
Holloway Terrace has a great walking location being right by to two major intersections: Sunset & La Cienega, and Santa Monica & La Cienega. There is a wide variety of activities and dining options from this central location. For convenience, there is a gas station, 7/11 and CVS pharmacy (which use to be a roller skating rink). For dining options, if you don't feel like cooking at home, or ordering grubhub, IHOP (they have good pancakes), Weho Bistro, Barneys Beanery, Shake Shack, Starbucks, and Dialog café are just a few of many dining optoins. You also have all the shopping and dining of Sunset Plaza and Equinox on Sunset.
For groceries, West Hollywood Pavilions or the Whole Foods on Fairfax and Santa Monica will probably be your regular spot. There are some big changes in the works for the corner of Sunset Blvd and La Cienega with the New Millenium project finishing soon.
Record Sale? $839,000 9/12/2017
Turnover Ratio? 6% a year or about 5 condos a year
Appreciation? 4% – 5%
The corner units get great light because they have a row of large bay windows in the living room and another in the master bedroom. Every condo has a small to a medium size balcony that ranges in size from 5 x 10 to 10 x 15.
Of the 84 condos (50) are 1 bedrooms and (34) are 2 bedrooms so there are more 1 bedrooms in this building than 2 bedroom condos.
The living rooms have a fireplace, central HVAC, and hard surface flooring. The kitchens are galley style kitchens, and many owners have removed the wall separating them from the living room to open them up more. Gas Range in the kitchen.
Pricing
1 Bedrooms (50)

700 sqft – 800 sqft

 $500,000 – $550,000
 2 Bedrooms  (34)

 1,000 sqft to 1,300 sqft

 $700,000 – $800,000
All floor plans are single story. There are two types of floor plans in Holloway Terrace: corner end-units and interior units. The architect of the building design it to have the most amount of corner units as possible and those corner units have both sides.
This building has Community area laundry. There is one laundry room on each floor with 2 washers and 2 dryers. Sorry, washing machine cannot be installed in the unit.
Parking is in the Subterranean gated garage. 1 bedroom condos get one parking space, 2 bedroom condos get two parking spaces. All parking spaces are side by side, there are no tandem spaces. The building doesn't have any Guest Parking.
How much are Holloway Terrace condos HOA Dues?
What do the HOA dues at Holloway Terrace cover?
Water & Trash, building insurance, Common Area Maintanace, Earthquake Insurance, Reserves
Hoa does exclude?
Electric, Gas, Condo Insurance, Internet and Cable
Are there any special Assessments?
What is the Pet Policy at Holloway Terrace?
3 pets maximum. No weight restriction
What is the Rental Policy at Holloway Terrace?
Leases must be 1 year or longer. No more than 30 units or 35% of total units may be leased. If there are no more leasing spaces available, then owners are put on a waitlist.  
EQ Insurance?
YES, Earthquake insurance is included in regular HOA dues
How much the building reserves?
CCRs?
Are there any Special Move in Instructions?
Can you have a BBQ on the Balcony?
Who is the Property Management Company?
Are you interested in the Angelino Heights area? Let's chat today, click the button below!