828 N Hudson Ave | Hollywood Condos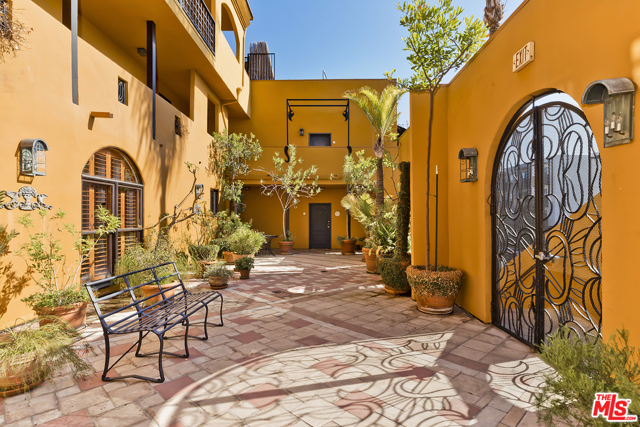 $639,000
Pending
828 N Hudson Avenue 109 Los Angeles, California
2 Beds 2 Baths 1,010 SqFt
No properties found
828 N Hudson Ave
Los Angeles CA 90038
828 N Hudson is a 25 unit Mediterranean condo building in Hollywood. Built-in 1989, it's hard to ignore this building's bright Southwestern Orange exterior! The building has Spanish architectural elements with Saltillo tile courtyard, wrought iron entry gate, and a good variety of tropical plants. The building has low HOA Dues under $400/mo. One thing that makes 828 N Hudson unique is that there are 4 rooftop decks with views on each corner. No elevator in the complex, so be ready to climb some stairs! Laundry is community, located in a laundry room on each floor. All the floorplans are 2 bedrooms that range in size from 950-1300 sqft. This building appeals to buyers who want to be close to nightlife and entertainment, but also want to keep an eye on their mortgage. These condos sell for a 20% discount to comparable West Hollywood Condos, and 10% below slightly larger Hollywood condos nearby. 
828 N Hudson is located in the southern central part of Hollywood, so you are very close to Hancock Park and Larchmont Village, and close to Hollywood and Vine. This area has experienced an explosion of development as many single family homes are being demolished and redeveloped into condos and apartments. I wouldn't be surprised if this area became like central West Hollywood in another 10 to 15 years. The Pavilions on Melrose and Vine is the closest grocery store. Trader Joes on Vine is 5 minutes up the street. My favorite breakfast spot Grub is walkable from 828. For Special occasions, Mozza is one of the best Italian restaurants in LA. For Everday lunch spots, I like Malibu Eaterie and California Chicken Cafe on Melrose and Mansfield, however, their parking lot is always full, and All About the Bread on La Brea. The list of bars is too many to name but a couple of spots nearby are Pour Vous, the recently moved Cat and the Fiddle, and the Next Door Lounge.
Record Sale: $602,000 8/15/2017
Turnover: 4%-5% about one condo sells a year on average
Appreciation: 3.5%
Floorplans vary between single story and townhouses. All of the condos on the first floor (101-110) are single story, and all of the condos on the 2nd floor (201-215) are the townhouses with a flight of stairs up to the Third story, which is the upper floor of the 2nd floor. All of the condos are 2 bedrooms that range in size from 950 sqft to 1300 sqft.
Most of the owners have remodeled their condo to their taste. One bummer of the townhouse layouts is there is no downstairs powder room. Upstairs there is a hallway bathroom that serves as a bathroom to the 2nd bedroom and a guest bath. These condos have really big living rooms with a gas fireplace. I really like the Italianate windows in the living rooms. Kitchens are modest size but have everything you need. The master bedroom has its own private master bathroom and walk-in closet. Units that face the rear of the building have balconies of varying sizes.
Condos sell between $600,000 and $700,000
Each condo gets two parking spaces in the gated garage. 3/4ths of the parking is side by side, 1/4 is tandem. There are 8 guest parking spaces in this building (6 tandem 2 side by side).
Laundry is Community laundry. There are 2 laundry rooms on floors 1 and 2 with two washers and two dryers. Some condos have in-unit laundry- those are grandfathered in. No new in-unit laundry is allowed to be installed in the unit per management company.
How much are 828 N Hudson Ave condos HOA Dues?
What do the HOA dues at 828 N Hudson Ave cover?
Water, Trash, Common area maintenance, building insurance, reserves
What does the Homeowner have to pay for?
Electric, Gas, Internet Cable, Condo Insurance
Are there any special Assessments?
What is the Pet Policy at 828 N Hudson Ave?
No restrictions on breed or weight
What is the Rental Policy at 828 N Hudson Ave?
Leases must be in writing and at least 30 days in length, no other restrictions
Are there any Special Move in Instructions?
Can you have a BBQ on the Balcony?
Who is the Property Management Company?
Are you interested in the Angelino Heights area? Let's chat today, click the button below!