132 N Swall Dr | Beverly Center Condos
132 N Swall Dr Condos For Sale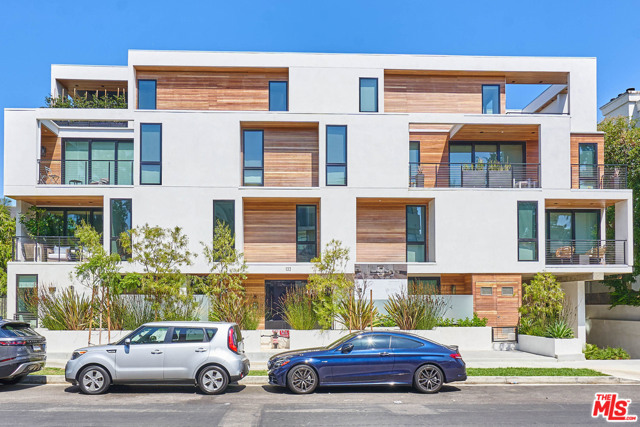 $1,695,000
Active
132 N Swall Drive 301 Los Angeles, California
2 Beds 2 Baths 1,470 SqFt
132 N Swall Dr Condos For Lease
No properties found
One Thirty-Two
132 N Swall Drive
Los Angeles CA 90048
One Thirty-Two North Swall is an ultra modern 14 condo building in Beverly Center. Built in 2018, by a great local developer, this is a rare find in Beverly Center where there are very few new construction buildings, and even less that are modern.
Visiting 132, you might feel like you got lost and wandered into an open house in the Hollywood Hills! This building has the Best Kitchens- you could feel proud posting them on Houzz.com. But unlike that Hollywood Hills Dreamhome, you don't have to shell out $5M! You can get a condo at 132 N Swall for $1.6M-$2.5M, and $4M for one of the two penthouses.
Finally, great design is within reach for the high functioning and overachieving professional. And you don't have to waste time on yard work or maintenance, which is handled by the building's property management company.  Because in today's world there is precious little free time, and maybe you'd rather be out socializing. The convenient location saves you more time too- with four pedestrians oriented Blvds, and three major cities, Beverly Hills, West Hollywood, and Beverly Grove that crisscross this location like a train depot.  More time you could be spending with the people you care about or doing what you love.
For all of the Wow inside, the outside of this building is quite subdued. If I were to compare luxury brands, it has the Mercedes/BMW vibe and less the LAMBO, more the Patek Phillip and less the flashy diamond encrusted watch. The Lobby is rather unassuming, with no seating area. The building has no Pool, no Gym. This keeps HOA dues extremely reasonable. With 132 Swall, You Get everything you want, and nothing you don't.
All of the floorplans at 132 N Swall are single-story, so no stairs. There is a mix of 2brs (8) and 3brs (6)- with sqft ranging from 1,300 to 1,800 for floors 1-3 and 2,500 sqft for the penthouses. Buyers will really love the finishes, which aren't easy to find in Los Angeles at this price point.
This building gives buyers the Huge open Room that everyone is looking for right now. There is a massive combined living/dining/and kitchen in every unit. The kitchens are top notch with Meile appliances, and you get extra goodies like a coffee maker and wine cooler to complement the standard package of custom panel fridge, quiet dishwasher, and induction cooktops.  The marks of high-quality finishes are plain to see, with heavy solid wood doors (42 inch wide front d00r), chrome door handles with leather grips and Anderson wood windows. Huge pieces of Calacatta Marble are in the bathrooms and kitchen and Grohe faucets. The Frameless shower doors in 2nd bathrooms have a fun barn door slider which I haven't seen before. Recessed lighting is LED which is nice because those bulbs last for 7-8 years and changing the lighting can be difficult with such extra high ceilings.
One of the interesting incentives the developer is offering is for owners to pick their own flooring options. There are a variety of Wide plank oak wood floors to choose from, or buyers can pick any floor covering they like. The developer has a selection you can choose from and one of the options is herringbone which is great if you want a pattern look.
Another thing that stands out to me is the developer went all out in the closets. The Master Closet is a Minotti type of closet. And every closet is finished.  Most of the times, developers leave the closets to the buyer. Really impressed with the closets.
A building this nice hasn't been built in the neighborhood since La Terrasse or 432 N Oakhurst. The developer want's only a modest premium above comparably sized condos in the area. Pricing starts at $1.6M and goes up to $2.5M for the (12) 2br condos on floors 1-3. There are four condos on each of these floors. The top floor is a true penthouse floor with two reflected penthouse floor plans that are 2,500 sqft that has starting prices at 4M. Pricing is $1,000 sqft to $1,300 sqft for the 1,500-1,800 sqft  2BR floor plans, and $1,500 sqft for Penthouses.
One of my favorite features of the Penthouses is a huge outdoor private patio.

Every condo has a balcony, but it's really the penthouses and the ground level condos that have large balconies. The balconies on the 2nd and 3rd floors are small.
Laundry is inside the condo in a laundry room that can fit a stackable.
Parking ???
How much are One Thirty-Two condos HOA Dues?
What do the HOA dues at One Thirty-Two cover?
What does the Homeowner have to pay for?
Are there any special Assessments?
What is the Pet Policy at One Thirty-Two?
What is the Rental Policy at One Thirty-Two?
EQ Insurance?
CCRs?
Are there any Special Move in Instructions?
Can you have a BBQ on the Balcony?
Who is the Property Management Company?
Are you interested in the Angelino Heights area? Let's chat today, click the button below!