450 N Sycamore Ave | Il Borghese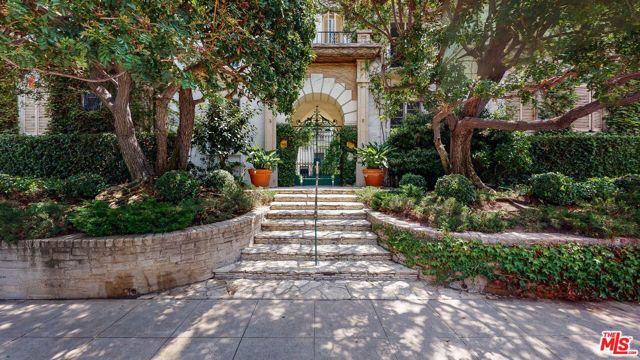 $649,000
Pending
450 N Sycamore Avenue 12 Los Angeles, California
1 Beds 1 Baths 714 SqFt
$3,200
Active
450 N Sycamore Avenue 3 Los Angeles, California
1 Beds 1 Baths 710 SqFt
Il Borghese
450 N Sycamore Ave
Los Angeles CA 90036
Il Borghese is a 22-unit Mediterranean style vintage condo in Hancock Park. Built in 1929 as apartments and converted to condos in 1980 this building offers old world vintage charm. The building has an absolutely gorgeous arched entryway with intricate and ornate wrought iron gates that open to an airy courtyard with a coy pond, ancient Greece motifs, and mature landscaping. Parking can be a challenge. Great City Views from the common area Rooftop deck! seen in the movies "Mulholland Drive" and "The Truth About Cats and Dogs," can be yours on a beautiful tree-lined street centered in the movie capital, convenient to Larchmont and 3rd street shops and cafes.
Record Sale? $1,180,000 #7 (developer's unit) 10/5/2017
Turnover? 1 condo a year or 4%
Appreciation? 4% averaging over 40 years
Il Borghese is a two-story building. There is a ground level floor and a 2nd floor. All condos are a single level, except #7 which is the only townhouse style condo and the developers unit. Most of the condos are (18) 1 bedroom, but there are (4) larger 2 bedroom condos. There is a pretty widespread in size between 1 bedrooms, which range from 650 sqft to 1,100 sqft. That difference in SQFT can make a $100,000 difference in price! #4 and #6 have big patios over 3 car garages facing Rosewood. The rest of the condos don't have balconies but the common area roof deck and courtyard more than makeup in the outdoor space department. I love the red clay Mediterranean roof tiles. They look great. Some of the condo front doors have a gnarly coat of arms carvings in them while others are french windows. The condos have the original wood windows and french doors and very high vaulted ceiling living rooms. The living room is medium size, the bedrooms are medium size with small closets, and the bathrooms and kitchens are small. The living room has a wood burning fireplace. From what I have seen these have all been sealed off so its more of a mantel than a usable fireplace. These condos did not come with HVAC- but some owners have added HVAC over the years. I love the original Art deco bathrooms! You get a battleship cast iron tub, and a separate stall shower. The living rooms have beautiful plaster crown moldings and plaster walls throughout. Peg and Groove hardwood floors which are common in the Hancock Park area.
Condo Mix
(4) 2br
1200 sqft to 1400 sqft

$900,000 – $1,000,000
(18) 1br
Parking can be challenging at the Il Borghese like many other vintage condos. There are only 16 spots for 22 units, so some of the condos don't get an off-street parking space, and there is no guest parking of course. There are 6 garage spaces facing rosewood. There are 10 angled spots in a carport on the east side of the building. Each condo gets no more than 1 parking space.
Laundry is community laundry. There is a community laundry room on the south side of the building right behind the Sycamore parking gate. There are 2 washers and 2 dryers. In-unit laundry can be installed. 4 or 5 condos have installed in unit laundry. Verify with HOA.
How much are the Il Borghese condos HOA Dues?
What do the HOA dues at the Il Borghese cover?
What does the Homeowner have to pay for?
Are there any special Assessments?
What is the Pet Policy at the Il Borghese?
What is the Rental Policy at the Il Borghese?
CCRs?
Are there any Special Move in Instructions?
Can you have a BBQ on the Balcony?
Who is the Property Management Company?
Are you interested in the Angelino Heights area? Let's chat today, click the button below!